The Future Leader Program (2022)
Leadership requires the ability to understand oneself as well as the needs of others and recognize how our behaviors and preferences impact those we lead. This program is designed to build self-awareness, self-reflection, and confidence as employees prepare for management and leadership roles.
Participants will leave this program with a deeper understanding of their strengths and development opportunities, and the impact their style has on others, so they can lead in a way that cultivates compassion, empathy, peak performance, and results.
Topics include:
• Module 1: Fundamentals of Modern Leadership
• Module 2: Leading Through Strengths (includes StrengthsFinder assessment)
• Module 3: Myers-Briggs Type Indicator Assessment: Understanding Preferences and Work Style
• Module 4: Crafting Your Leadership Brand & Values Based Leadership
• Module 5: Leading with Emotional Intelligence (includes personalized assessment)
• Module 6: Managing & Influencing Key Relationships
• Module 7: Elevating Success: Principles for Personal and Professional Success

Program pricing includes three leadership assessments, a workbook, and the book, Leadership From The Inside Out by Kevin Cashman.
Targeted Audience
This program is ideal for high potential employees, future leaders of the organization, new supervisors, employees who are tapped for management or leadership roles in one to five years. This program is also suitable for current leaders who can benefit from a better understanding of how their management style impacts others.
Program Schedule
• May 26, 2022 (Virtual)
• June 16, 2022 (Virtual)
• June 30, 2022 (Virtual)
• July 14, 2022 (Virtual)
• July 28, 2022 (Virtual)
• August 11, 2022 (Virtual)
• August 17, 2022 (Virtual)
All sessions 9 am – 12 pm via Zoom
Speaker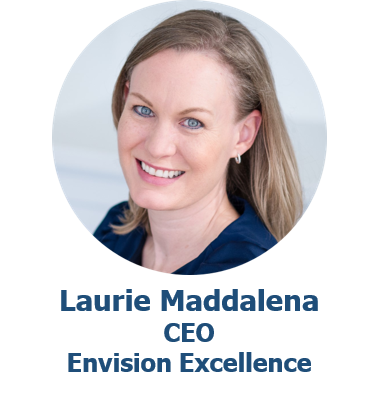 Laurie Maddalena is CEO of Envision Excellence, a leadership development consulting firm that provides leadership development programs for managers and executives, executive and leadership coaching, management training, Myers-Briggs facilitation, Emotional Intelligence surveys and leadership assessments. Laurie has been personally mentored by Jack Canfield, author of The Success Principles, and is a certified Success Principles Trainer. Laurie is a member of the National Speakers Association (NSA), and is a Certified Speaking Professional (CSP), a designation earned by less than 15% of speakers worldwide. She writes a monthly online column for next generation leaders for CUES, is a contributing writer on leadership for The Huffington Post and CUInsight, and has published articles in Credit Union Management. Laurie has worked directly with Brené Brown, a bestselling author and researcher, and is a certified Dare to LeadÔ facilitator. Prior to establishing her own coaching and consulting business, Laurie served as Vice President of Human Resources/Organizational Development at Montgomery County Teachers Federal Credit Union (MCT). Under Laurie's leadership, MCT was awarded the "Excellent Place to Work" designation by the Maryland Work~Life Alliance for seven years in a row. Laurie earned a Master of Business Administration (MBA) degree and a Master of Science degree in human resources/organizational development from The University of Maryland, University College. She also earned a bachelor's degree in speech communication from Syracuse University. Laurie is a certified executive coach through The Coaches Training Institute, and completed team and organizational coaching training through The Center for Right Relationship and Team Coaching International. Laurie lives in Maryland with her husband, Rino, and their three young children, Olivia, Luca and Clara. She is a culinary enthusiast, avid reader, cappuccino lover, and enjoys a nice glass of Cabernet.
Cancellation Policy
Live events
To cancel registration for a live event, the registrant must send an email to Chrystal Hunter, Training and Events, at chunter@mddccua.org. If the cancellation email is received 7 or more days before the live event, a refund or credit will be made minus a 30% cancellation fee. No refunds or credits will be made if the cancellation email is received within 6 days of the live event.
Self-study Courses and Recordings
To cancel registration for a self-study program or recording, a refund or credit will be made if course component has never been viewed or accessed by registrant. No refunds or credits will be made if the course component has been viewed or accessed.
Training Discount
Financial assistance is available for credit unions with less than $150 million in assets through training grants provided by the CU Foundation of MD|DC.
Approved awardees will receive their training grant as a REIMBURSEMENT upon successful completion of the program. Certification verification demonstrating completion of the program is required to receive the grant. Eligible credit unions may receive up to $2,000 annually. Funds are limited.
To apply, please visit: www.cufound.org/training
Key:

Complete

Next

Failed

Available

Locked
Graded as Pass/Fail
Complete StrengthsFinder Assessment provided by instructor.
Training and Education Speaker Evaluation
5 Questions
5 Questions
Thank you for attending and providing feedback! All answers provided are purely for purposes of improving the member experience and will be kept strictly confidential.
Live Viewing: No credits available and certificate available
Live Viewing: No credits available and certificate available